Garden Windows in Connecticut and the New England Areas
Garden windows make great home improvement options for homeowners who want to expand their outdoor viewing comfort. Unlike most window types, garden windows jut outward, giving the indoors additional space. It also comes with a lot of shelf space, so you have more areas to place your spices and potted plants. Not to mention, garden windows look beautiful and invite more natural light into the property, so it's no suprise that properties that have them, sell well.
Give Your Home Beautiful Outdoor Views with For-U-Builders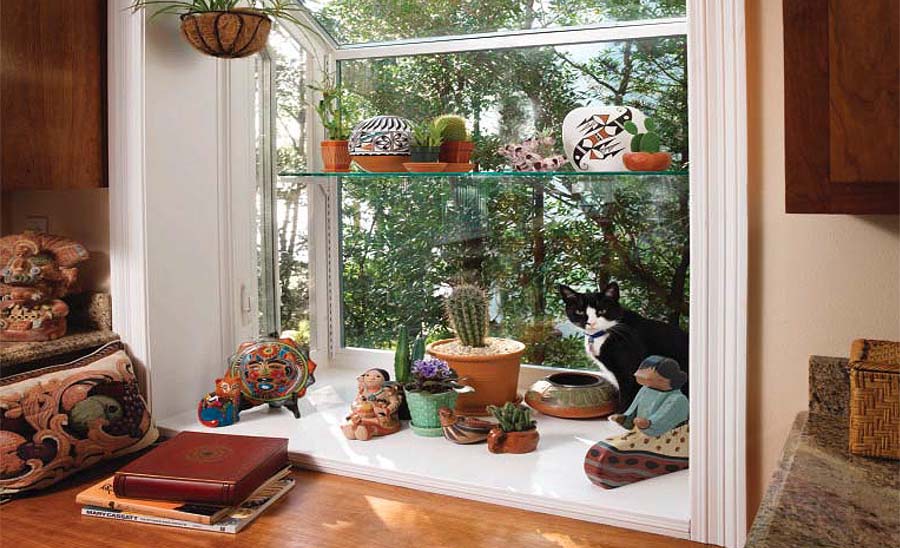 If you're looking to equip your property with garden windows, contact For U Builders today. We provide quality crafted windows and offer a professional window installation service as well. We want to give you gorgeous outdoor views and make your home look effortlessly beautiful. That's why our company distributes garden windows from the following brands:
Alside Garden Windows
Bringing beauty and new dimensions to any space, Alside garden windows invite warm and sunny days right into your living room. Alside's garden windows are fully screened and feature twin-sealing side vents for pleasant air flow. The window is made to withstand any climate and will not chip, peel, or blister under pressure. Its 17" seatboard also complements your favorite flowers and plants.
Other Features and Benefits
Tempered top sloped insulating glass for improved unit integrity and safety
Comes with a multi-point locking system for added security and a tighter seal
Completely assembled and easy to install
Atrium Garden Windows (Series 998)
The Series 998 garden window by Atrium provides homeowners a decorative touch. The window's 15-1/2" gives your plants enough space to breathe and soak up sunlight from four different directions. The roof panel is made of laminated safety glass, giving the product ultimate durability and protection. It's also simple to operate because the vents crank out easily.
Other Features and Benefits
Comes with a multi-point locking system with dual locking points (for heights over 36-3/4")
All hardware is coated with E-Gard chemical and corrosive resistant finish
The exposed areas of the wood jamb are covered with vinyl cladding
Available in almond or white colors
Harvey Vinyl Garden Windows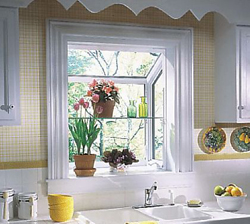 The garden windows created by Harvey have energy efficiency qualities. The windows come with a 1" high performance insulating glass, which has the option of Low-E or Argon glazing. The garden windows have R-50 rating AAMA certification and a tempered top slope, improving the product's unit integrity and safety.
Other Features and Benefits
Operating systems offer improved weather protection
Exterior grade plywood headboard, seatboard, and jamb are built for excellent structural and thermal performance, eliminating the need for support brackets.
R-50 "Coastal Rating" is available
National Vinyl LLC, Garden Windows
National Vinyl's garden windows may look simple, but they're constructed from strong materials and offer long-lasting durability and protection. They windows are strengthened by a rigid PVC vinyl frame and are fully welded. Plus, they come in multiple glass and color options to match the aesthetic of your property.
Thermal Garden Windows
Thermal's garden windows are very customizable and come in a variety of colors, options, and grid styles and patterns. The window's solid construction ensures that the product won't chip or peel. Thermal also offers premium options for their garden windows, including:
Pre-finished wood package
Oak veneer and solid oak colonial casing
Invisi-Mesh®
Contact For-U-Builders at 203-349-6468 today if you're interested in purchasing any of the mentioned windows above. Our company can also handle the installation, ensuring that your new garden window won't get damaged in the process.