Ensuring the appropriate amount of insulation in your home in Connecticut is essential to making your home more comfortable, more energy efficient, and saving you money on your monthly energy bills. According to the U.S. Department of Energy, creating an optimal condition for energy efficiency means you must keep your home well-insulated from the roof, down to its very foundation. Insulation is the most important contributor to energy efficiency, allowing property owners to conserve energy, and reduce their utility expenses, all while living in a more comfortable home.
In fact, bringing your home's insulation up to code, will in effect pay for itself over the life of the home. If you are going to pay for it either way, why not enjoy a more comfortable home for you and your family, while you are living in it? When you need our help in Wallingford, Windsor, East Lyme, Middletown, or Glastonbury, give us a call at 203-349-6468 or click here to make a reservation for services at your property within our service area. We also serve customers in Portland, Uncasville, South Windsor, Old Lyme, and South Glastonbury.
Top-Quality Insulation Options for your Home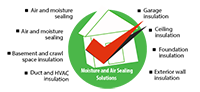 Inadequate or faulty insulation can lead to a number of problems. Certain rooms inside your home, for instance, can become too hot or too cold, or you could end up paying too much for your electricity and fuel bills.
At For-U-Builders, we have made it our mission to help our clients have better-insulated properties. We offer a suite of top-quality products and technologies to give your home or commercial property a highly customized insulation upgrade that truly suits your requirements.
We offer 3 Main Types of Insulation
Batton
Blown In
Rolled In
Our products and services include:
Attic insulation
Products like loose-fill insulation, batt insulation, and radiant barriers will be installed in your attic to reduce heat loss or heat gain.
Duct and HVAC insulation
Ductwork and HVAC insulation is necessary in order to ensure that the air travelling within your ducts will remain at the desired temperature and will not escape, helping you save on energy costs.
Exterior wall insulation
Exterior walls are usually treated with products like blow-in insulation, spray insulation, and foam sheathing in order to protect the house from cold winter drafts.
Foundation insulation
Properly insulating your foundation does not only help reduce energy expenses, it also helps protect your home from other problems like moisture leakage, insect infestation, and radon infiltration.
Basement and crawl space insulation
Insulating your basement and crawl space is essential to improving the comfort and energy efficiency of your home.
Ceiling insulation
For homes with cathedral ceilings, products like foil-faced batt insulation and foam insulation are often used to ensure ceiling temperatures are as close to room temperatures as possible.