Types of Deck We Install in Connecticut & New England Areas
Whether you are looking for a spacious deck for entertaining, outdoor dining, spending quality time with your beloved ones, or just a private area to relax after work, For-U-Builders can design a custom and inviting-looking deck for your home. Our experienced professionals will work closely with you to accommodate your desires for the deck you have always dreamed of.
Different Types of Deck We Install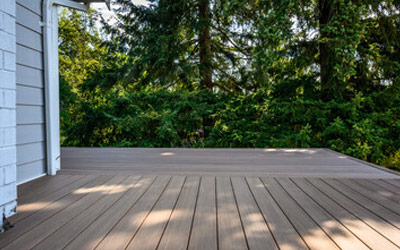 For-U-Builders can install a fully customized and elegant deck for your house. We have a wide variety of options for deck installation including:
Wraparound Deck: A wraparound deck is a kind of like an old-fashioned wraparound porch, but larger and more room-like. It provides extra room and extends the living space of your house while allowing greater air circulation.
Multi-Level Deck: A multi-tier deck has different levels of decking that are connected, usually by steps or paths. It is recommended when you have a house that is located on hills, slopes, or rocky landscaping. It also adds strong visual appeal to your home and allows the room for a comforting walk & quality time.
Attached Deck: An attached deck is similar to a patio, except that it's made from wood or wood composite decking materials. The deck is often slightly raised and a common place for an attached deck is at the back of an L-shaped or U-shaped house.
Unattached Deck: An unattached deck or floating deck is more like an island and can be positioned anywhere on your property with access via stairs or a pathway. Perfect for outdoor activities without ever stepping foot outdoors.
Rooftop Garage Deck:A rooftop deck is an excellent idea to utilize the space above your garage and extend your living area even further. We can help you convert the space into a deck where you can enjoy your afternoon tea or hang out with your beloved ones.
Swimming Pool Deck: A swimming pool deck as the name suggests has a swimming pool attached to it that can be customized according to your needs and your home's size measurements. It can offer a poolside feel with the luxury of taking a bath anytime you want.
Contact For-U-Builders for Elegant Deck Installation for Your Home
No matter how luxurious or cost-effective you want your home's deck to be, we can provide you with affordable yet elegant deck options for your house in Meriden, Orange, Easton, Danbury, and more nearby Connecticut & New England areas. We have the resources, experience, and expertise to provide you with superior quality deck installation that you can count on. When you are looking to install a deck for your home, make sure to call For-U-Builders at 203-349-6468 to explore a wide range of beautiful & exclusive deck installation options. Contact us TODAY for a free estimate.