Invest in Your Deck Replacement with Us in Connecticut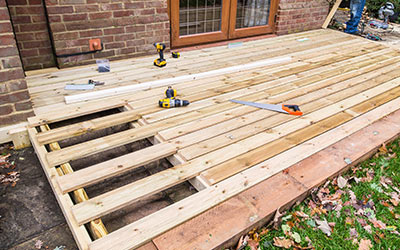 When it comes to your deck, or more importantly- deciding whether or not it's time for a new deck, there are a few things that you should know. A well-maintained deck is a thing of beauty. It adds value to your home and helps you spend more time outside. We're proud to offer a comprehensive deck replacement service in CT and throughout New England for almost 30 years.
We specialize in deck replacement and our goal is to help you turn your backyard into an outdoor living space you will enjoy. If your existing deck is old, shabby and a maintenance nightmare, For-U-Builders offers you a wide variety of deck options whether you are wanting to make your home more energy-efficient, improve the value or just make upgrades you've been dreaming of making. We offer free, no-obligation quotes so you can decide which upgrades or improvements are best for your needs and budget in Abington, Amston, Andover, Ansonia, Ashford, Avon, Ballouville, Baltic, Bantam, and nearby communities.
Call us today at 203-349-6468 to know more about our service with free estimates!
Custom Made Deck Replacement Service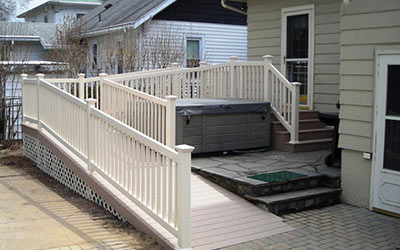 We offer a broad range of deck materials to enhance the value and beauty of your home. We will work with you to select the ideal type of decking material for your lifestyle and budget, maximizing the benefit of your investment and adding life to your home.
We'll show you how to make a new set of safer and stronger enclosed stairs and build handsome deck handrails from cedar and prefinished aluminum spindles. We add a simple privacy screen to shield activities from nosy neighbors and a below-deck skirting system to mask the unsightly posts and ugly areas below. We used rough-sawn cedar for all of the exposed wood parts because its rough-hewn surface will hold stains for years.
Reasons Why You Should Replace Your Old Deck
Create sensational new outdoor living space in unexpected places
Turn underutilized pieces of property into livable real estate
Increase your property's value
Rely on Us for Deck Replacement for Your Home
Our deck replacement services include tear down, installation, material disposal, and more. We pride ourselves on service excellence. The result is a great-looking deck that's now safer for your family, friends, and pets. We also provide service for siding, painting, ductless AC & heating, interior remodeling, and many more!
So don't wait and contact us at online to get our top-notch services in your area.