Install Classic Wood Deck to Enhance Beauty of Your Home throughout Connecticut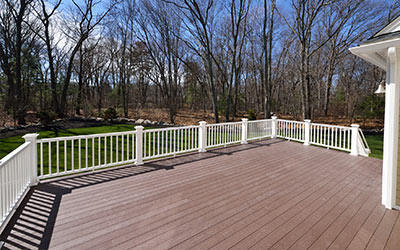 A classic wood deck is a perfect way to derive more enjoyment from your residence. Not only that, a solidly constructed classic wooden deck helps add value and curb appeal to your home. It offers you and your family extra space to entertain guests and somewhere to get a breath of fresh air after a long day. A custom-crafted classic wood deck by For-U-Builders is a sound investment in your home. Our design and construction services give you free rein to build a deck that is as simple or as elaborate as you wish.
Whether you want a custom-built classic wood deck or a deck replacement, our team at For-U-Builders is here to help you decide the best option for your needs. A classic wood deck installation is an excellent choice for extending the living space of your house into the outdoors while offering a good return on your investment.

Whatever your budget might be, our staffs are ready to help you explore the possibilities of what your deck could be. Working with only the best brands in the market we are proud to offer our customers the greatest choices in classic wood decking and composite railings systems.
Call us at 203-349-6468 to know more about wooden dec service with free estimates!
Unique Ideas & Options for Classic Wood Deck Installation: We Can Help you to Decide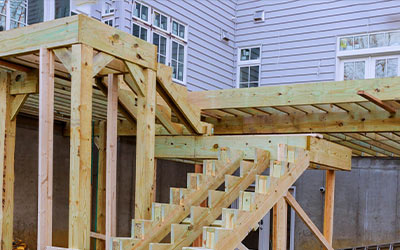 We realize that there is a whole lot more to decking than finding something that will make your outdoor living space look great. The right deck will not only be visually appealing but will also stand the test of time and future changes. We can provide you with classic wood decking options in a variety of colors, sizes, and shapes, as well. If you want to discuss your overall property improvements with our team, we can help you do that too.
Enhance your living space, maximize your backyard, get the most out of your garden, and more. You can choose from a variety of classic wood decking options that will make your deck look great. There are many patterns of decking that you can choose from Basket Weave, Parquet, V Shape, and more!
Count on Us for Classic Wood Deck Installation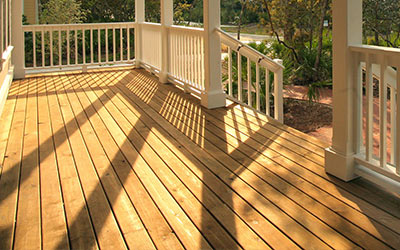 Our classic wood deck building services include tear down, installation, material disposal, and more. We are professional deck builders with well over 30 years of experience that love what we do! We want to make your property into a beauty that you can enjoy for years to come. We offer competitive pricing and guaranteed satisfaction. You will be pleased with our work and we welcome the opportunity to be your chosen deck builder in Bridgeport, Bristol, Broad Brook, Brookfield, Brooklyn, Burlington, and nearby communities.

For-U-Builders is a company that was built on an ethic of customer satisfaction. We are in the business of providing high-quality services while we build a relationship with you, our client, to ensure that 100% customer satisfaction is reached.
We work with a variety of wood decking
We are Fully Licensed & Insured
Accredited Energize Connecticut with an A+ rating.
Family Owned & Operated.
We also provide service for siding, painting, ductless AC & heating, interior remodeling, and many more! So don't wait and contact us at 203-349-6468 or contact us online to get our top-notch services in your area.