Heated Gutter Guards

Winter can be a troublesome time for your home especially if you have snow or freezing temperatures. Snow can quickly build up on your roof and clog the gutters and it's vital that these problems are fixed immediately so they don't permanently damage your roof or start a leak. However, removing snow and ice from your roof is both dangerous and challenging, so it's a good idea to have heated gutter guards installed so you don't have to worry.
The Advantages of Heated Gutter Guards
Heated gutter guards are an excellent solution to keep your gutters from freezing over. They're efficient, self-regulating heating systems that melt snow and ice, so you can expect that your gutters will constantly drain melted ice and water, preventing sheets of ice forming under your doorway and porch.
If you're looking for a heated gutter guard system that fits your needs and budget, For-U-Builders has the perfect product for you, the Ice Shield Heated Gutter Guards by MasterShield®.
The Ice Shield Heated Gutter Guards by MasterShield®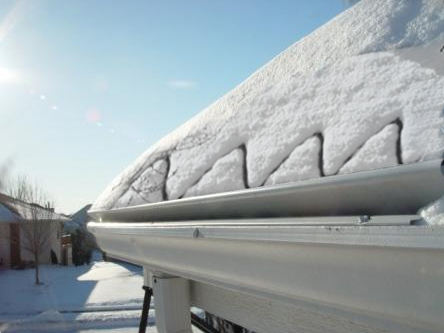 The Ice Shield is unlike any other heated gutter guard system on the market because you can heat it with a constant wattage or a self-regulating heat cable. It's also designed to concentrate heat on specific areas of your roof like over the entranceway or the entire gutter run. Additionally, you won't lose any of MasterShield's features while using the Ice Shield.
This means you still get the benefits of 100% Higginbotham technology, as well as our patent-pending approach to heating gutter guards.
Advantages of the Ice Shield
It's Adaptable. With the Ice Shield, you have the ability to heat various areas of your roof because the heat cable placement is flexible, so you can prevent ice from forming in places like under your skylight.
It's Affordable. The Ice Shield is created to suit many budgets so depending on your heating requirements and climate, we can design a system that will fit your needs.
It Can Be Installed Anytime. You don't have to be in a rush to install the Ice Shield. This product can be installed any season, anytime!
Get the Best Gutter Protection Systems from For-U-Builders
At For-U-Builders, we strive to provide the best home improvement services and products to our all of our clients. When it comes to heated gutter systems, For-U-Builders trusts the incredible performance of the Ice Shield Heated Gutter Guards by MasterShield®.
Contact For-U-Builders if you want to protect your roof from snow and ice damage. We provide fantastic gutter solutions and understand the difficulties of maintaining a snow-covered roof. When you're ready to install the Ice Shield on your Connecticut or New England area home, contact us at 203-349-6468.