How to Make Your Home More Energy Efficient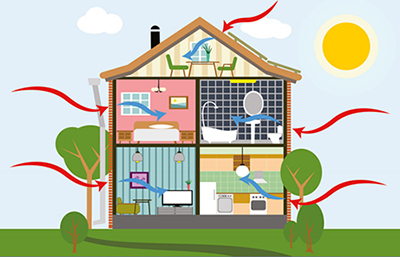 Most of us associate the idea of "energy efficiency" with decreasing our environmental footprints. But in the case of home improvement, energy efficiency means two things: eco-friendliness and major savings to your utility bills.

In truth, a little pro-action to make your home more energy efficient goes a long way. You'll be preserving the natural resources of our Earth and, at the same time, you'll save on energy bills. Read on for a few quick tips on boosting the energy efficiency of your home, courtesy of home improvement aficionados For U Builders.
Conduct an energy audit. Want to know the truth behind your home's energy consumption? For starters, you can hire a licensed energy auditor to assess specific inefficiencies and causes of wasted energy. The auditor can walk you through points of improvement that apply to your home situation.

Seal air leaks around your windows. Air leaks may be a source of wasted energy around your home. As such, it's probably a good idea to refurbish your windows and prevent leaks. You can caulk any cracks you see in the drywall, add shrink film, or get a home improvement contractor like For U Builders to upgrade your window furnishings.
Upgrade your HVAC system. A functional HVAC system consumes less energy to operate properly, and the energy savings translate into significant cash savings as well. With this in mind, you might want to upgrade your HVAC system with newer and smarter parts.

Switch out incandescent bulbs for more energy-efficient LEDs. Some likely culprits in raising your electric bills are outdated incandescent light bulbs. Take the opportunity to replace those with longer-lasting, more energy-efficient halogen bulbs or light-emitting diode (LED) bulbs.

Keep appliances off when you're not using them. This one's a challenge, but it will cut your costs. If an appliance or electrical device isn't immediately in use, unplug it. This goes for everything from kitchen appliances to cellphone chargers.
Improve Your Home for Greater Energy Efficiency with For U Builders
Better energy efficiency in your home requires commitment. But a home improvement specialist like For U Builders can help you stay true to these goals, one job at a time.
For topnotch remodeling services paired with topnotch products, contact For U Builders. We offer home improvement services in the Greater Connecticut area. To find out more about our scope of work, call us at 203-349-6468 or reach us through our Contact Us page to schedule a consultation. Don't put off your home improvement for tomorrow; achieve maximum energy and cost savings today with For U Builders!